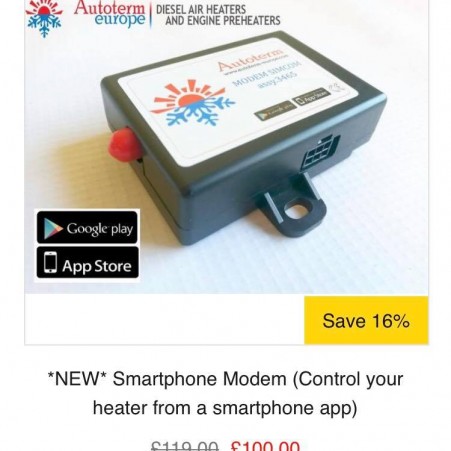 *NEW* Smartphone Modem (Control your heater from a smartphone app)
Back
Smartphone  Modem (Control your heater from a smartphone app)
The long awaited smartphone controller has been released. Planar heaters can now be controlled from anywhere  via a smartphone app downloaded to your mobile phone. We have tested it in house and love it (in fact will be fitting one this weekend to my campervan). The smartphone controller is operated with an easy to use app to  control the heating or hot water. The Modem is  fitted in addition to a normal controller ie  Rotary PU-05 controller, simple digital PU-22 controller and seven day timer controller.  
The smartphone controller is £119 and we have stock.  
Currently reduced by 16% to £100 inc vat
Suitable for all Autoterm Planar Diesel Air and Water heaters.
Simply download the app at google Play and Apple Store (search Planar Heater) and start using the smartphone controller.
The app takes seconds to set up and is simple to operate.